To pay your fines and fees online, select the link below:
---
Welcome...
The Trumbull County Central District Court, located in Cortland, Ohio, serves the following communities: Cortland, Fowler, Johnston, Green, Mecca, and Bazetta. The court consists of only one judge, Thomas A. Campbell. Below is a map that highlights the areas encompassed by the Central District Court along with an aerial view of the court and its surrounding area.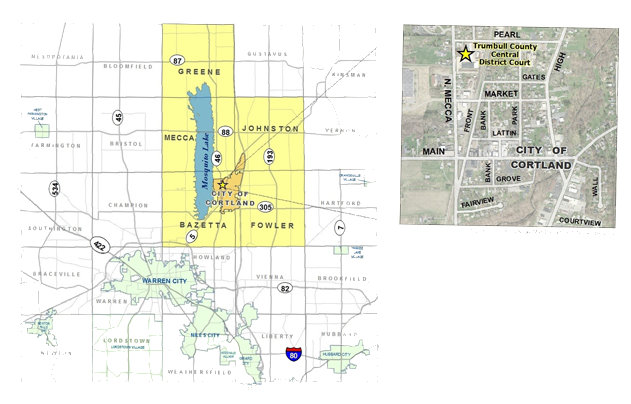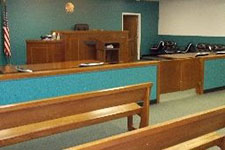 Hours of Operation:
Monday - Friday, 8am - 4pm - Closed on Government Holidays
Government Holiday Calendar
Video Arraignments are Monday, Wednesday, and Friday at 10:30 a.m.
Court is held on Monday, Wednesday, Friday 9:00 a.m. to Finish
Holiday Schedule 2019
| | | |
| --- | --- | --- |
| Tuesday | 01/01/2019 | New Years Day |
| Monday | 01/21/2019 | Martin Luther King Day |
| Monday | 02/18/2019 | President's Day |
| Monday | 05/27/2019 | Memorial Day |
| Thursday | 07/04/2019 | Independence Day |
| Monday | 09/02/2019 | Labor Day |
| Monday | 10/14/2019 | Columbus Day |
| Monday | 11/11/2019 | Veterans Day |
| Thursday | 11/28/2019 | Thanksgiving Day |
| Friday | 11/29/2019 | Day After Thanksgiving |
| Tuesday | 12/24/2019 | Christmas Eve |
| Wednesday | 12/25/2019 | Christmas Day |
| Tuesday | 12/31/2019 | 1/2 Day New Years Eve |
| Wedsnesday | 01/01/2020 | New Year's Day |